There is a running joke amongst pet owners of their babies having doggie breath. Unfortunately, it isn't a laughing matter. Just like humans, your pet shouldn't have bad breath. If your pet is experiencing a case of bad breath they should be seen your veterinarian. About 80 percent of the pets that we see in the clinic have periodontal disease by the age of 3.
What is Periodontal disease?
This danger condition occurs when bacteria has solidified under your pets gums causing the formation of plaque and tartar. This bacteria then travels into the bloodstream to the valves of the heart, liver, and kidneys. It will cause pain and loss of your pets teeth. Eventually, resulting in damage to the organs and shorten the life span of your pet. With preventive care, keeping up your pets teeth can increase your pets life expectancy by 3 years. While these 3 years may not seem like a long time to us, for a pet this can equate to 20 percent of their life.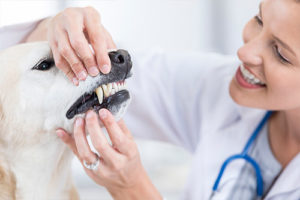 As a veterinarian, the biggest concern that pet owners face when it comes to the preventative care of their pet's oral health is the necessity to sedate your pet to clean its teeth. Here at Town and Country ,we perform an average of five dental procedures per week. The utmost caution is taken with your pet before, during and after anesthesia. Prior to anesthesia, a full exam including ekg and auscultation of the heart is taken to make sure the heartbeat is normal and that we do not detect a murmur. If we hear one, we will recommend a chest X-Ray to rule out any issues. Secondly, we perform blood work to assess your pets organs that will metabolize the drugs to anesthetize your pet. Once we have clearance that all is good with testing then we proceed by placing an iv catheter to give us emergency access but also allows us to give your pet iv fluids to control your pets blood pressure during the procedure. We then start the procedure. Your pet is under and we place an endotracheal tube to give it anesthetic gas to keep it under while we perform the dental X-Rays, dental cleaning and extractions if needed.
We always have two staff members working on your pet at all times. This ensures the safest possible environment. One staff member is designated to the cleaning while the other one is constantly monitoring your pet by hand and through using the surgical monitor that keeps track of all of its vitals. Along with these measures, we also have a warming device keeping your pet at a normal temperature. Keeping the animals at the correct body temperature is critical to the success of the procedure. Throughout the entire procedure, I am stationed along side the team, reading the X-Rays and making any changes with anesthesia if needed.
After the procedure is completed, we wake up your pet and continue to monitor it's vitals until it is fully awake. At this point, we will give you a call to let you know when they are awake .
Just as all procedures that we perform at TandC, we take great pride in keeping your pet safe before, during and after the procedure. No shortcuts are taken, the health and safety of your pet, is our top priority.
If your pet has not had a dental exam recently, and is in need of dental care today, don't hesitate to give us a call at 337-984-3889 us or you can even schedule your appointment through our website.
February is pet dental health month, and to promote this, we are offering a 10 percent discount on our dental services. Want to save even more?! When you pare this with our preventative packages that include dentals, you get a 20 percent discount.