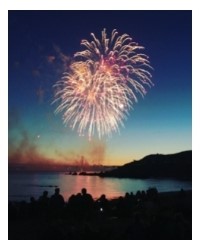 The 4th of July is right around the corner, and you know what that means – fireworks! Fireworks are a time-old tradition of celebrating America's independence; one that many humans love, but not many pets love. If your furry companion is timid, scared, or frightened during fireworks displays, here are some tips that may help them keep their calm:
Exercise your pet before the fireworks start so that they are more tired during the festivities.
Keep your pet away from windows and doors. An interior room will help dampen the noise.
Increase white noise to help cover the booming fireworks, including turning on the radio, TV, or a sound machine.
A ThunderShirt and other tight-fitting shirts may help reduce anxiety.
Ensure your microchip and/or tags are up to date. Even the most well-trained pet may react negatively to the sounds of fireworks and may run if they are startled or scared. In doing so, you're increasing the likelihood that your friend is safely and quickly returned to you.
If you know your pet may not respond to any of these suggestions, give our clinic a call to see if anxiety-reducing medications are an appropriate choice for your pet. Please be sure to call as soon as possible so that we can fill prescriptions before the weekend.
As a reminder, we are closed Monday, July 5 in observation of the 4th of July. If you experience a medical emergency with your pet, we encourage you to contact Lafayette Animal Emergency Clinic.
Have a safe and happy 4th of July!