Holiday season is quickly approaching, and this year will be just a little different due to the Covid-19 situation. While a good amount of folks will still travel, a large number are also expected to stay home. In either situation, you still may find the need for a place for your pet to stay. Either while you are out of town or for times when the family is coming in and having your beloved pet in an alternative, safe place could reduce the stress on both you and them. There are many options that are available for boarding your pet during these times, but why should you consider boarding them at a veterinary facility vs a kennel only facility?
There are many advantages to choosing a veterinary facility over one that has only kennels. If the facility is that of your regular vet, they know everything about your pet and will be able to monitor your pet closely, knowing how to treat your pet immediately in the event that treatment is necessary. If you have decided to, or out of necessity have brought your pet to a veterinary facility that is not your normal vet, you should not worry. These veterinary facilities treat sick pets every day and will still be able to give your pet the care that they need in the event that it arises. They are trained to recognize distress in animals and will be able to immediately give assistance to your pet. On the other hand, non-veterinary facilities will be ill-equipped in both training and resources to be able to respond in such instances. This can lead to a delay in treating your pet.
One concern that we hear from clients is that of their pet being stuck inside of a cage throughout the day when they are boarded at a veterinary practice. Here at Town and Country Veterinary Clinic, we take pride in our boarding facilities that have larger suites that connect to outside runs, and then to the outside play yard. We allow your pet to play in a safe environment, allowing them to play according to their temperament and social skills. We rotate pets through the yard depending on which pets can play with each other. We monitor pets and if they are older and need some quiet downtime, we allow that as well. Special attention is given to each pet according to their individual needs.
Another concern that owners should be aware of, is the vaccination policy of the boarding facility. There are many facilities that allow animals to board with them with "same day vaccines". This is concerning because it can take two weeks for the vaccination to settle into the system of the animals allowing for proper immunity to the diseases that they are intended to prevent. At Town and Country, we make sure that every pet is up to date on vaccinations two weeks prior to boarding with us.
In the event that your pet may not yet be used to boarding, it is a great practice to start off small, by bringing them to the facility in advance of your anticipated stay for short daycare visits. This exposes your companion to the environment and allows for a smoother transition when overnight, or more lengthy stays are needed. The more they come to the clinic the more comfortable they will become.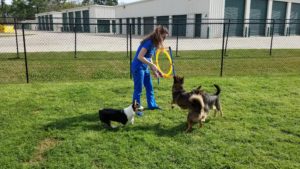 Our mission is to ensure the happiest, healthiest lives for all of our guests at our boarding facility. We love giving treats and providing them with a high quality, positive experience.
If you have any questions about boarding, daycare, or any other of the many services that we offer, please feel free to call us at 337-984-3889 or email us at Info@TandCvetclinic.com. We hope that you consider us for your next boarding needs.